Home
Notice
: Undefined offset: 2 in
/home6/theresu4/public_html/anniesatticantiques/wp-content/plugins/bits-on-the-run/bitsontherun.php
on line
476
Welcome to Annie's Attic Antiques~Toys~Collectables
…and welcome to The Attic.
News Flash!
I'm in Staffordshire setting up for the Stafford Bingley Hall Antiques
Fair what a great Fair this is going to be.  I've turned up with my new display stand that I hope will greatly improve how the collection of Pewter and Silver I have brought will look.  I've also brought my famous toys.  This is my first time at this show and as we are all setting up, I'm already meeting some lovely people who are a different crowd of exhibitors than I usually see here. My toys at the show also include some new Robots and Space toys as well as my now famous Schuco collection.  No Piggy Chef as those of you might already know…..you'll have to wait and watch BBC's Bargain Hunt to find out more!  Probably my 3 minutes of fame!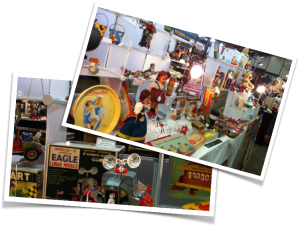 Anyway, make sure you come to the show and say hello at the stand, follow this link for the details.  Getting Here See You Soon,
Annie
---
More About My Attic
Located in Warwickshire, in the heart of  England, Annie's Attic brings you a fascinating range of antiques and collectables.  Most of the items from The Attic are unique, and you'll find that Annie's interests lie in antique and collectable toys – especially tinplate – and advertising or advertiques.
We are now including videos in our descriptions and listing, here's an example of one of the toys we have at the moment that is amongst my favourites.
Annie's Attic is full of antiques and collectables from across the globe, and 'new' items are acquired regularly. So, please return to The Attic often to browse what available, what's new and what's on.
I'm Annie, and I believe in bringing beautiful, one-of-a-kind antiques and collectables to the market at reasonable prices so that they can be enjoyed and treasured for generations to come.
I'll be at the following Fairs and Shows were you can see some of the wonderful toys I have in my collection:
Staffordshire County Ground Antique Fair: Saturday the 13th and Sunday 14th September.  Details Link
The Stafford Bingley Hall Antique Fair: Friday 26 through Sunday 28th September    Details Link
Sandown Park Racecourse Toy Fair: Saturday 15th November Details Link
Coventry Connection Antiques Fair: Sunday 16th November – mTo be Confirmed
NEC Birmingham Toy Fair: Saturday 27th December   Details Link
Here are a selection of the latest things I found in my attic…..
Latest Products
Just a few 'new' items in The Attic